WooCommerce and Shopify are the two most popular ecommerce platforms available on the web. Anyone who wishes to take their existing or new business online would eventually come across these two platforms and most likely get stuck deciding which one to choose. You cannot go wrong with either of these two but you might want to know which one will suit your business better.
Overview
WooCommerce is an open source platform developed by Automattic, the same company behind WordPress. WooCommerce was built specifically to cater the needs of an online store made in WordPress. It comes with all the basic features required to make WordPress into an ecommerce website.
Shopify is a SAAS(Software As A Service) that was designed to take businesses online. It ships with lots of basic and advanced ecommerce requirements out of the box. As a SAAS you don't have to bother about the technical aspects running behind your online stores.
Let's dig into the details and see how these two platforms are different and the features they offer.
Getting Started
When opening an online store in Shopify, you never have to worry about installing softwares, managing your hosting plans or configuring your domain. You just purchase a plan that suits your business and start setting up your shop. The technical side like updating softwares, performance, taking backups and security are taken care of for you by Shopify. In a nutshell, you can quickly set up an online shop even if you are a beginner by choosing a theme and giving it the look and feel you desire.
WooCommerce runs on top of WordPress and a self hosted WordPress comes with all its quirks like buying a hosting plan, get a domain, buy an SSL certificate, update your software from time to time, take backups and manage all compatibilities like PHP versions. Nowadays, managed WordPress hosting eliminates most of these problems but compatibility issues have to be managed by the user himself.
All in all, Shopify is easy to use and beginner friendly while WooCommerce requires you to have some technical know-how to manage your online store. You can get your online business started far more quickly in Shopify then in WooCommerce though the latter shouldn't take more than a couple of hours.
Build Time & Ease Of Use
If you want to quickly build your shop and go live then Shopify is the right choice. As soon as you sign up to Shopify they walk you through all the designing by letting you pick a theme of your choice and all the customization options that you have and then help you add your inventory. Shopify ships with an intuitive drag and drop interface that lets you manage your inventory with less efforts. These features also take away some of your control over certain customizations.
With WooCommerce you need to have your basics in place like buying your hosting service with WordPress and WooCommerce installation and a domain. These tasks can be automated depending on your hosting provider.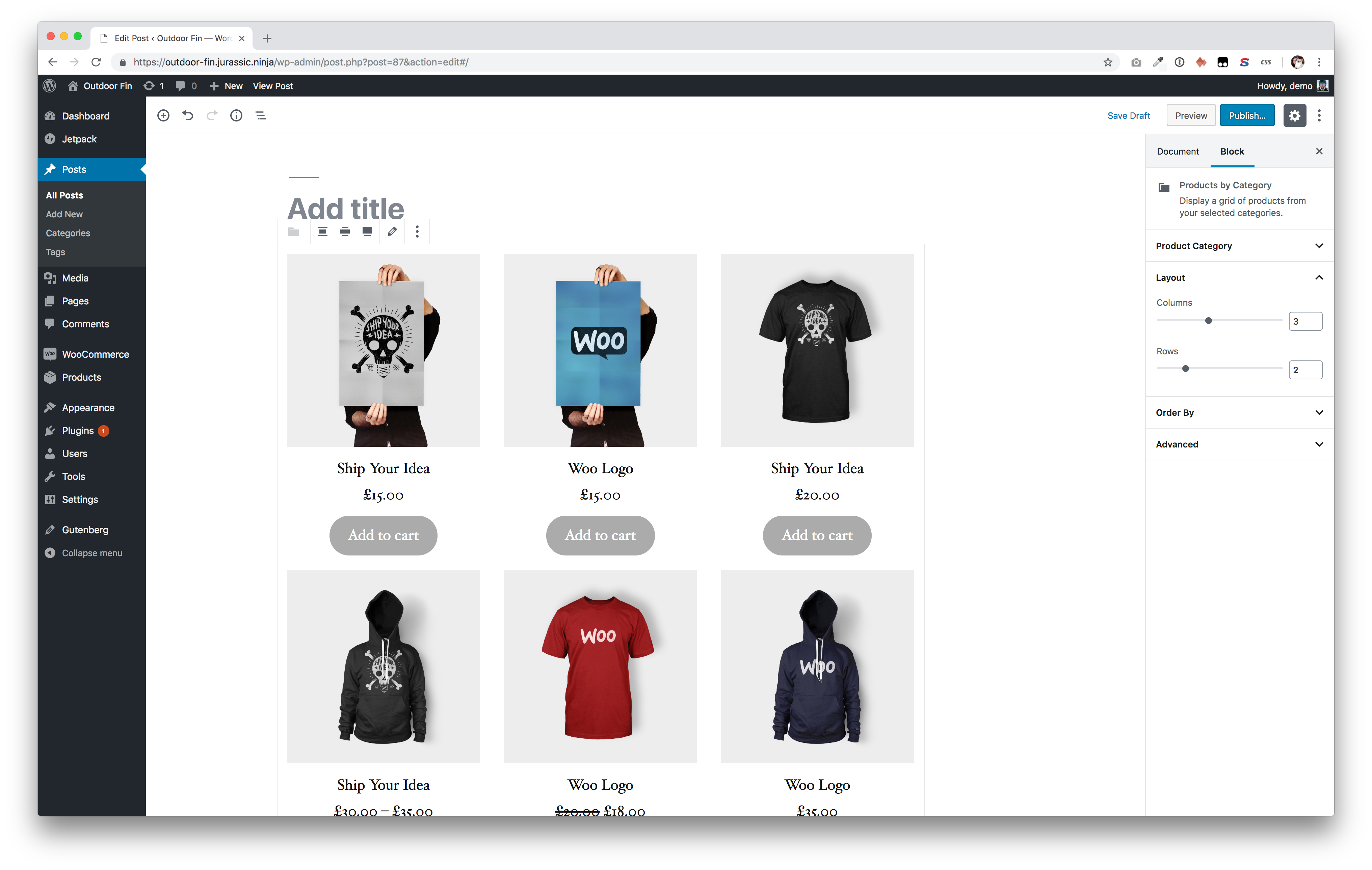 WooCommerce may be a bit daunting for a beginner but once you know all the workings you are in full control of your store. You can add any kind of feature or functionality to your website that you desire. You don't get a built in drag and drop builder but you can install free page builders that add those features for you. WooCoommerce has a plugin called WooCommerce Blocks that integrates seamlessly with WordPress' default block editor and makes it a lot easier to create tour store pages.
While WooCommerce gives you all the flexibility, Shopify gives you simplicity and ease of use.
Design and Themes
Shopify has a good number of themes that are professional and clean in design and are more focussed on selling your products. WooCommerce comes with its own theme called storefront that is fine tuned for ecommerce set up. WooCommerce also has more than a thousand themes that are mobile responsive and dedicated to ecommerce or online stores though they might not be as fine tuned as Shopify.
When it comes to design, flexibility in WooCommerce allows you to create limitless designs and layouts that Shopify does not allow. Plugins in WordPress take customizations to a whole another dimension.
Sales Features and Shipping
Shopify ships with essential ecommerce features like abandoned cart recovery and multichannel selling. The basic plan also features discount codes, unlimited products and ability to sell internationally. Shopify has partnerships with USPS, DHL Express, UPS, and Canada Post that makes shipping more robust.
While WooCommerce comes with basic sales features it does not have abandoned cart recovery in its free plan. It allows you to ship internationally too.
Plugins and Integrations
Shopify comes with a powerful and robust API and an App Store where you can buy the apps that cover the possible features you may require in your shop. They have hundreds of third party apps in their app store which cover all the essentials like email lists, SEO, product reviews, discounts, reduce cart abandonment and so on. Apps may be free that work with APIs or may have subscriptions to their service.
WooCommerce works on top of WordPress and just like WordPress it boasts a collection of thousands of free and paid plugins. All the missing sales features and almost any feature you can think of can be added by the third party plugins to make your store more customizable. Working with plugins in WooCommerce is easier than in Shopify.
Payment Options and Transaction Fees
Shopify comes with its own payment solution called Shopify Payments which is powered by Stripe which is free to use and does not incur any additional transactional fee. It can integrate with other third party payment gateways seamlessly but the catch is that you have to pay 2% fees on each transaction made through them. Advanced Shopify plan can reduce this to 0.5% per transaction.
WooCommerce also supports all major payment services but it offers PayPal and Stripe by default. Unlike Shopify, WooCommerce does not charge any kind of transaction fee when using third party payment gateways. This can be a game changer if you sell in a lot of stuff and have lots of transactions.
Support and Security
As mentioned earlier Shopify is a fully hosted platform and all the software updates, security and backup related stuff is handled by Shopify. They provide 24/7 support through phone calls, emails and live chat. Shopify also has a well written and extensive documentation with tutorials and knowledgebase. They have how-to guides and forums to get you the info needed to start something new. You can also hire Shopify experts if you need extra help.
WooCommerce has a huge community behind it and with it comes a great support. The official website also provides extensive documentation including tutorials and guides to help yourself. The community forum is a great place to get help with any kind of problem, most of your queries and problems might already have been answered there. WooCommerce is a self-hosted platform thus maintenance related chores like taking backup and adding SSL certificates needs to be managed by the user.
Conclusion
Shopify is an easy recommendation for people looking for a beginner friendly and easy platform to take their business online. Most of the maintenance parts are taken care of by Shopify itself. WooCommerce is for people looking for that extra flexibility and customization but ready to do their maintenance and take their security at their own hands.